YACReader Install Guide
Installing YACReader on Arch Linux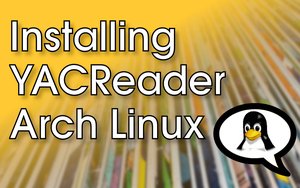 📝 This is an old post. You can now install yacreader-bin instead of yacreader.
YACReader is a cool cross-platform digital comic book reader. This has been my go-to comic reader on Linux for many years.
It has a lot of handy features:
Support for a wide range of digital file formats: rar, zip, cbr, cbz, cb7, tar, pdf, 7z, jpeg, gif, png.
Support for single/double page reading and full screen mode.
Track the reading progress of your comics.
Create bookmarks, backgrounds.
Magnifying glass for reading small text.
Add tags and information to comics in your collection from Comic Vine.
Quickly search through your comic collection to find what you are looking for.
Installing
This is not an overview of the program itself, but rather a guide for those wishing to install it.
I've seen a lot of Arch users not being able to use YACReader due to a dependency error they see when trying to download or install it. The problem with YACReader on Linux, is that there is an old dependency problem relating to libicuuc.so. Without this file the whole program fails to load.
The solution to this, is to install another package called libpdfium-nojs. Once this is installed the main package can be installed and will compile without errors.
Install libpdfium-nojs
Install YACReader
Now to install the main YACReader package.
YACReader will take some time to compile, however, now the missing dependency issue has been resolved, you should be able to install it without issue. Hopefully, in the future the main package for YACReader will resolve this long-standing issue.