Aquarium Installation Service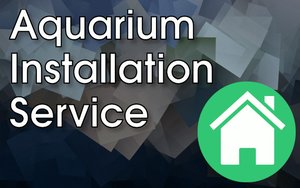 We recognize that not everyone in Second Life® is a builder and that you may just want to spend your time exploring or socializing. Trying to figure out how to resize, position or texture aquariums may be taxing for some, so let us do the work for you.
While our aquariums are scripted to be as user-friendly as possible, sometimes it takes time to learn new things - especially if you're new to Second Life®. So with that in mind, we are proud to offer our professional home installation service.
Since 2005, we have provided high quality affordable aquatics in Second Life®. And on top of that, our no-nonsense home installation service. For a small service charge, we can come to your home and set everything up for you.
Requirements For Home Installation
In order to provide you with fast and professional service. We would ask that you comply to our installation requirements before contacting us.
Please ensure that,
We have full teleport access to your land.
We are not going to be sent home by any scripted security devices, either from you or your neighbours.
Add us to ANY groups that the land requires in order for us to build and rez objects.
Scripts and physics are enabled on the land.
That we won't be bothered by other residents while we work.
That you add us to your friends list and grant us modify rights to your objects.
You will be present at the location when we install your new aquarium and fish.
Additional Information
If you have answered yes to all the above, you can message "Supa Shang" in-world for a booking.
Please don't blindly send us any L$ until you have been booked.
Only Supa Shang works at the Virtual Aquarium for the installation work.
Never pay anyone else who claims they work for us or is posing as The Virtual Aquarium staff.
Please note, we only offer this service for The Virtual Aquarium products - not other aquariums or fish you may have purchased elsewhere.
Service Rates
Listed below are the work days, hours, and services fees for the type of work involved.
| Work Schedule | Description | Service Fee |
| --- | --- | --- |
| GMT-0 Mod - Fri | Prefab aquarium setup and fish installation. | L$500 |
| | Modification to existing prefab aquarium & decor. | L$1500 |
| | Upload and creation of seamless textures. | L$50 (per texture). |
| GMT-0 Sat / Sun | Prefab aquarium setup and fish installation. | L$1000 |
Large Aquatic Installations
Please note, at present we don't offer any full sim builds, large exterior coral reef, nor marine life installations.