Aquarium Installation Guide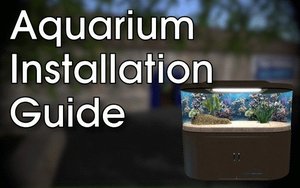 For those who may be new to our Virtual Aquarium products - I've written this guide to help get your new aquarium set up. You'll find instructions on adding textures to your tank, multi-selecting items and finding invisible objects.
Please read this guide if you are unsure on how to correctly position creatures, plants, rocks or need help on editing your aquarium.
Basic Building Skills
Any form of prim editing requires some basic knowledge of the "Edit Window". Using the Second Life edit window is not for the faint-hearted. While we explain how to use the edit window to edit our items here, we do not provide tutorials on how to build or edit textures in Second Life. You will be required to have the minimum skill required to edit and position items before we decide to provide additional support.
📝 To learn how to use the Edit Window or to locate items in your inventory in Second Life, please visit the Ivory Tower or visit a Help Island or ask a friend.
Unpacking & Setup
Before rezzing any fish or tank from your inventory,
Press your BUILD button Ctl B
If the build button is pressed down before taking things out of your inventory, all the pieces of your aquarium will stay together, making it easier to move the whole selection around as one object group.
Take the item out of your inventory and place it in-world close to where you need to put it.
EZ-Edit
Our "EZ-Edit" aquariums allow you to raise the front glass to position fish and plants in without having to move the whole tank to see what you are doing.
To do this,
Left-click on the aquarium glass, so you can see the dialogue menu.
Then, press the EDIT button.
The aquariums glass will slide up and allow you to put things into your aquarium boundary.
You can now add, remove or reposition any decor that you may have purchased for your aquarium.
Press Ctrl Alt T to view any invisible (alpha) objects to edit them.
Once you are done, simply left-click the glass and it will slide back down into place.
Adding Textures
We have made your aquarium with modify permissions unlocked. This allows you to drag and drop your own custom textures in for use. Textures can include,
Wood
Gravel
Sand
Backgrounds
Once you've added your texture into your aquarium, it will automatically update.
Adding textures to your tank is simple. You can even upload your own textures to Second Life to place into your aquarium. If applying an external texture (like wood), simply drag and drop the texture onto the face of the prim you wish to texture.
For gravel or backdrop textures, you will need to place the texture inside the contents of the prim which holds the existing textures.
To do this,
Open the edit window Ctrl B and select your tank.
Select "Edit Linked Parts" from "Edit window and left-click on the child prim that contains the default textures to edit it.
Go to the "Contents tab" of the prim and drag the new textures you wish to use from your inventory into your contents folder of your aquarium prim.
The unit will auto update and be ready for use.
Adding Decor
Most of our newer aquariums come with a default decor option built-in. This allows you to save time when setting up your aquarium. You can find the "DECOR" button in the aquarium options menu. Selecting this button will toggle the aquarium default decor on and off. When active, you will see your aquarium rez the built-in decor, including corals, plants, rocks and ornaments. To remove it, simple select the DECOR button again.
If you'd like to set up your own decor display, you can unlink the default aquarium decor prims and move them about in your aquarium or remove items you may not like. The default decor is modify and copy to allow you to do this.
We also sell individual aquarium decor at The Virtual Aquarium store if you are looking to add something extra.
Invisible Items
Some items may be transparent or hard to select (bubbles, stones or small fish etc), so a good idea is to press Ctrl Alt T on your keyboard to have small or invisible items show up. This makes it easier for you to position them.
Pressing Ctrl Alt T again will hide the red invisible items from your screen. Try doing this outside in a clear area or over a white flat prim in your home to help you see things better.
Multi Selecting
To select more than one fish or item in world, open edit window Ctrl B, then press and hold your Shift key, next, click and drag a yellow selection box over all the objects you wish to edit.
Now you can position the lot in one go. Use the position arrow lines to guide items into the tank.
Maintaining Your Tank
Is something poking out of your tank? Simply follow the steps above to position individual items back inside your tank. Make sure not to move the whole tank itself. If you make a mistake while positioning an item, press Ctrl Z to snap the item back into its original position.
Additional Support
We hope these beautiful looking aquariums gives you as much pleasure as it gives us creating them. Don't forget to check back for more fish and goodies.
If you feel your item may be at fault or something is not working to your expectations, please don't be afraid to message me "Supa Shang" in-world. I offer support via instant message if you get really stuck.
Take care, and thanks for visiting The Virtual Aquarium.