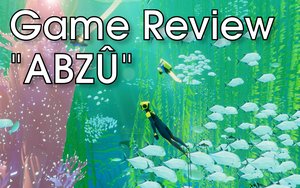 For those of you who know about the virtual content I love to create, you can no doubt imagine that this game was an instant buy for me. I've played a few games on Steam this week, but this one was probably the most visually and audibly pleasing. It really is a refreshing treat for the senses, and it's one of those games that makes you feel a little better about life after playing it.
ABZÛ
---
"From the art director of Journey® and Flower®, ABZÛ is a beautiful underwater adventure that evokes the dream of diving."
Enter the world of "ABZÛ". A beautiful, relaxing and stress-free underwater adventure game. The visuals and music in this game are amazing. You play as a diver who is trying to figure out who he is and restore a lost underwater city.
The art direction and attention to detail are all on point. As you explore this aquatic realm, passing through large swaying fields of sea weed or gently brushing over the plants on the sea bed, you'll need to search for clues, swim through underwater caverns or tombs to progress to the other areas.
You get to ride the many aquatic animals that you encounter along your way, like Dolphins, Manta ray and even large fish. If you want to relax - you can sit and meditate on little rocky statues and watch the fish go by, swimming around their habitat.
The areas you can swim in range from colourful coral filled reefs, to the dark and ominous depths of the ocean. You can be swept along with large schools of fish in underwater currents and repair little aquatic robots which will then follow and assist you on your adventure.
Linux Compatibility
Although this game is rated as "Silver" on protondb - "ABZÛ" works flawlessly on "Manjaro" with "Steam Play" for me. I had no issues with it. I just purchased it, installed it, and it ran without issue.
Final Verdict
If you want a peaceful and relaxing game to play at the end of your working day - one that isn't the usual run and gun, nor blowing zombies heads off, then, "ABZÛ"" certainly scratches that itch. Well… maybe gently massages it!
If you're reading this article during the "Steam 2020 Summer Sale" - you can pick it up now for only £4.49. If you enjoy relaxing underwater games, this is definitely one to check out and add to your collection.